Fashion Sleeveless Irregular Tail Dress
Specifications:
Color: Various colors available

Brand: Other Brand

Made in Asia

The charming Designer Women Dresses with beautiful design look more chic and distinctive

Naked Back design Women Dresses will sure make you stand out from the crowd

Korea style design of Women Dresses will make you become eye-catching

The fashionable Women Dresses are light weight and exceptionally comfortable

Free size fits most people

Wholesale women dresses at Dailyshop.com, you will get the best price

NOTE:
There may be certain error of these dimensions. Specific dimension varies from person to person
Size in Detail:

ClothType
Size
Length
Waist
Shoulder Width
Sleeve Length
Bust
cm
inch
cm
inch
cm
inch
cm
inch
cm
inch
Polyester
XS
126
49.14
34
13.26
34
13.26
0
0.00
38
14.82
Details: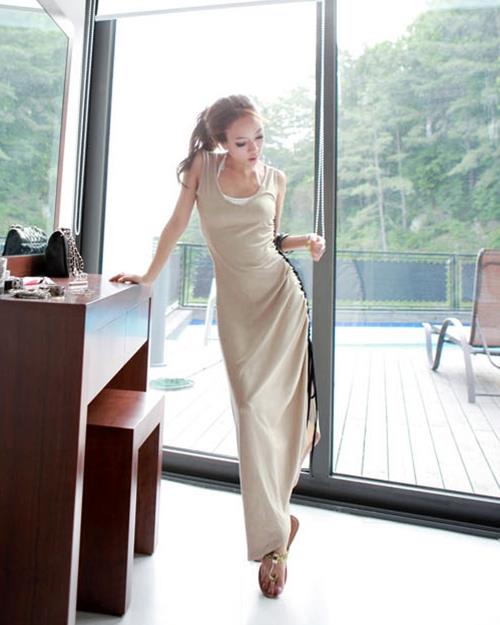 The women dresses can be worn both at formal and casual occasions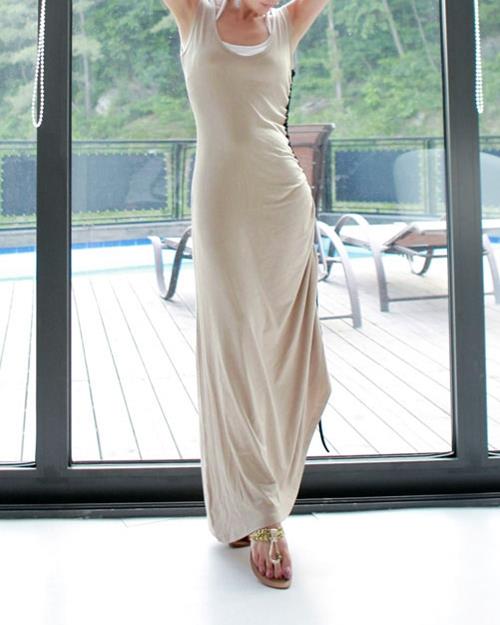 The dress are in the fashionable design which can give you a beautiful wearing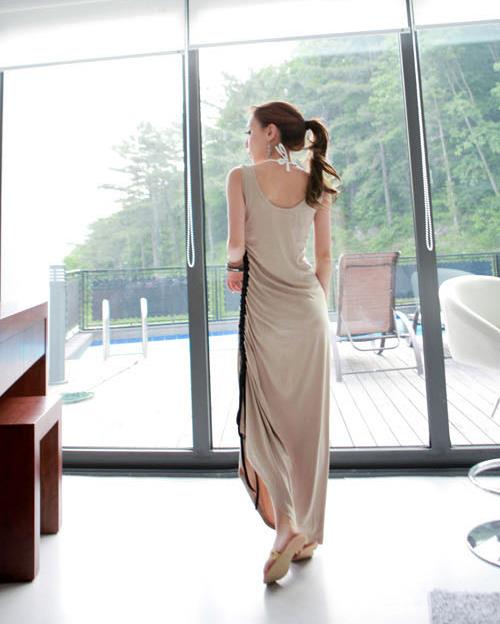 The special belt design of the side can give you a conveient wearing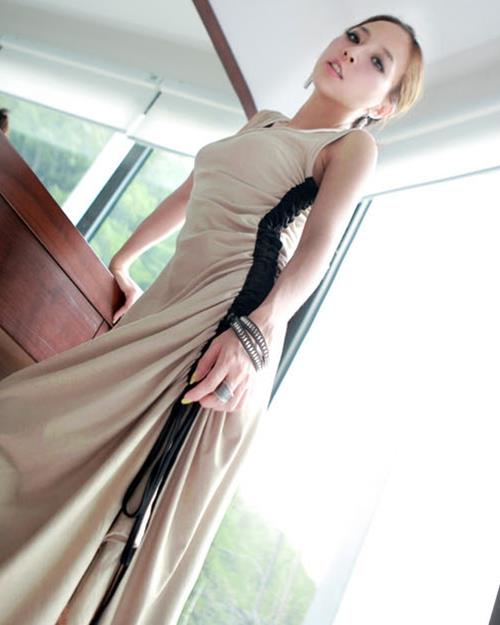 The long design of the dress can show your beautiful figures easily
How to Measure: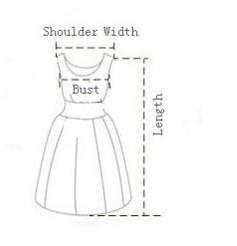 Package Included:
How to Wash:
Cotton blends clothing is made from fibers of both cotton and synthetic polyester. The fabric is lightweight and typically does not need to be ironed, which makes it great for traveling. The cotton polyester blend doesn't shrink as much as cotton.
•l Machine washes on the warm cycle with a detergent of your choice
•l Separate whites from colored clothes. Wash whites and colors, separately to ensure color preservation
•l Wash a load of either whites or colors in the washing machine on the delicate cycle using cold water. Use regular laundry detergent without bleach to wash the clothes
•l Add a fabric softener if you so desire
Tumble dry the clothes on the delicate setting, unless the tags specifically direct you to line dry or lay the item flat to dry. If you are concerned about shrinkage, then tumble dry the items for a couple of minutes to get the wrinkles out, then hang them to finish drying
How to Wash:
Polyester clothing, made from a synthetic fabric, is extremely easy to clean. This has been one of the reasons for its popularity, which peaked in the 1970s. Other benefits are its being able to hold its form well and its resilience against mold and mildew damage. And also, polyester is a durable synthetic and an extremely heat-sensitive fabric that is prone to absorbing oily stains. Quickly treat oil-based stains to prevent permanent damage to polyester fabric before washing. When laundering, use light duty laundry detergent and a vinegar rinse as cleaning agents, and avoid using excessive heat in the washing machine and dryer to prevent damage to the fabric's synthetic fibers.
•l Inspect the polyester fabric for stains. If stains are found, squirt the stain remover directly on the spot or spots. Place an absorbent cloth under the stain, lay the fabric on top of the cloth, and use a second cloth to dab inward from the outer edge of the spot. This will push some of the stain into the cloth underneath, and some will go into the wiping cloth. Avoid wiping outward to prevent spreading the stain. Repeat as needed to remove the stain
•l Use a washing machine to wash any polyester clothing. This works fine for most polyester mix fabrics as well. Place the washing machine setting on Permanent Press. Set the temperature to warm--not hot and not cold
•l Use fabric softener with your polyester clothing, to minimize or prevent its tendency to become stiff and sometimes itchy
•l Hang the polyester clothing on a clothesline to dry. You may also dry it in an electric or gas dryer, but on a low setting. Because polyester holds creases so well, make sure to remove it from the dryer promptly and hang it up or fold it to prevent serious creasing
•l Have your polyester clothing dry cleaned if you don't want to wash it yourself. Most polyester clothing is safe for dry cleaning
•l Use hand dishwashing liquid to remove spots from some polyester clothing items. It can work very well. If you're reluctant to try dishwashing liquid for spot removal, buy a spot remover that lists polyester
•l Put baby powder on a piece of polyester clothing if you get oil on it. Place the powder directly on the oil spot. After letting it set for an hour or more, wash the garment in the washing machine
Phone: +86 852-64571239
Business Type:
Location: China
Main Products: shirts ,jeans ,hoodies
Total Employees:
Year Established:
Export Markets:Domestic Market,North America,South America,Asia,Europe,Africa,Oceania
Total Annual Revenue:
Products you may be interested