Fashion Long Sleeve Lace Women Dresses
Specifications:
Color: Various colors available

Material: Lace

Brand: Other Brand

Made in Asia

Your perfect figure can be shown by wearing the beautiful Women Dress

Lace designer Women Dresses are durable enough for long time wearing

Make you out of ordinary with the Fashion Long Sleeve Women Dresses

Fashionable style of Women Dresses can show your good figure perfectly

Free size fits most people

Wholesale women dresses at Dailyshop.com, you will get the best price
Size in Detail:


Size
Length
Waist
Bust
Shoulder Width
Sleeve Length
cm
inch
cm
inch
cm
inch
cm
inch
cm
inch
XS
80
31.20
36
14.04
40
15.60
36
14.04
55
21.45
NOTE:
These dimensions are for reference only. Specific dimension varies from person to person
Details: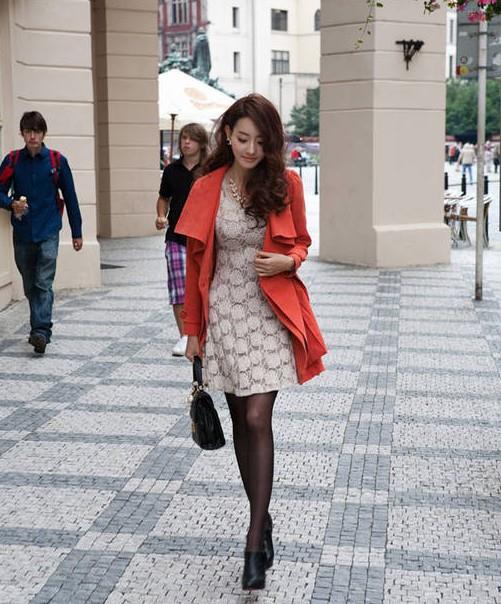 The women dress will be your best choice to show your fashionable style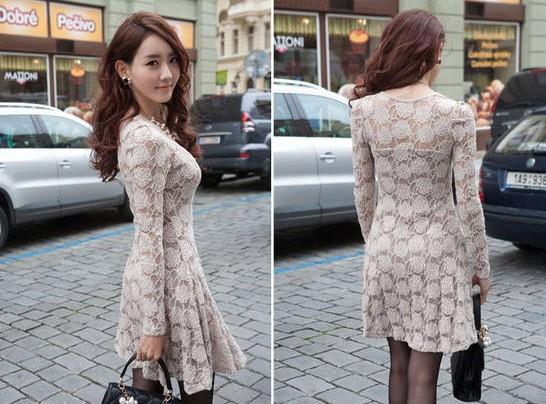 With fine workmanship, the stylish long sleeve dress is very soft and comfortable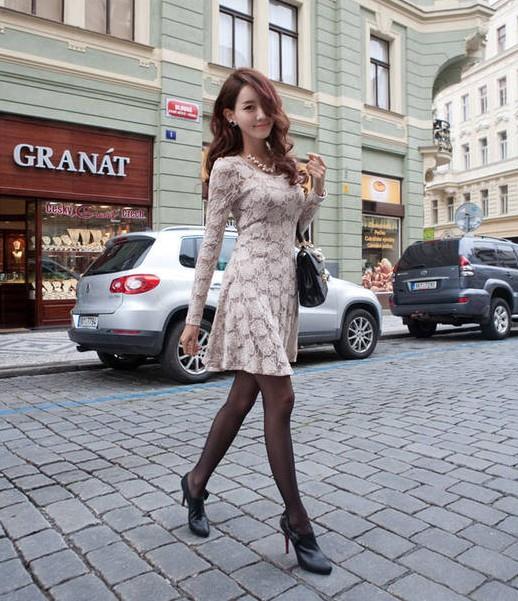 The special lace design of the stylish long sleeve dress is very trendy and popular
How to Measure: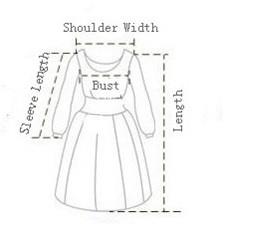 Package Included:
How to Wash:
Polyester and spandex are both types of synthetic materials. Many items of clothing made from synthetics are made of blends of these materials. Polyester clothing, made from a synthetic fabric, is extremely easy to clean. This has been one of the reasons for its popularity, which peaked in the 1970s. Other benefits are its being able to hold its form well and its resilience against mold and mildew damage. Many items are 100 percent polyester, but there are a lot of polyester mixes. Some cleaning rules may change when different types of material are mixed with polyester. The word "spandex" is a play on words based on the notion that the material is "expandable." Spandex consists of a substance that allows the material to stretch and maintain its shape. Additionally, manufactures blend spandex with other fabrics such as linen, polyester and cotton.
•l Machine wash on the warm cycle with a detergent of your choice
•l Separate whites from colored clothes. Wash whites and colors separately to ensure color preservation
•l Wash a load of either whites or colors in the washing machine on the delicate cycle using cold water. Use regular laundry detergent without bleach to wash the clothes

•l Sort your lace items by fabric, beginning with synthetic lace or "stretch" lace. This includes nylon, polyester, Spandex or other man-made fibers. Check the fabric tags if they're attached.
•l Sort out natural-fiber lace, such as cotton or rayon
•l Sort lace clothing and other items by color. Wash black and white lace separately, so that the dark color won't bleed into the light
•l Place each lace item separately in a mesh bag meant for fine washables
•l Set your washing machine for the right water level according to the load size. You'll usually find small, medium and large loads
•l Select the gentle, delicate or knit cycle
•l Choose cold water and begin filling the machine. Add soap as the water fills in order to distribute it evenly
•l Place the garment bags, with lace items enclosed, inside the machine when it is about half full of water. Close the lid and let the machine continue the cycle
How to Wash:
Lace is a traditional fabric that is still extremely popular for making window coverings, table linens and women's clothing. Such a wide variety of uses, along with the different types of yarns and threads that go into lace crafting, requires several different cleaning methods. Some very prized or delicate laces, such as that of vintage gloves or handkerchiefs, should never be washed.
Clean machine-made lace in a washing machine. Use the gentle cycle, mild laundry detergent and lukewarm water for cotton and linen lace to avoid shrinkage. Synthetic laces, in addition to mild washing, need a gentle spin and a cool down. You can help to avoid snagging, tangling or tearing by placing the lace items in a mesh laundry bag. Don't overload the size of the wash load and keep the wash cycle as short as possible. You can use a liquid fabric softener in the rinse cycle if you like

Treat machine made lace carefully when drying. If you didn't use liquid fabric softener in the wash, you can use a dryer sheet. Cotton and linen lace might shrink in a dryer, whereas polyester lace shouldn't have this problem. Again, it never hurts to err on the side of caution and air dry lace. Depending upon the weight and shape of the lace item, it can be dried flat on a drying rack or towel. Polyester lace curtains can be partially dried in a dryer and then placed back on the curtain rod to finish drying, although you might have to touch them up with an iron later

Launder delicate laces by hand. Fill a sink or basin with lukewarm water and a mild detergent. Swish the water to disperse the detergent throughout the water. Place the lace item in the water and allow it to soak for a few minutes. Gently pat the lace until clean; patting will press the soapy water through the fibers. Rinse thoroughly in lukewarm water. If you like, fill the basin or sink with lukewarm water and add a small amount of liquid fabric softener. Mix thoroughly and place the lace item in the water; allow the lace to soak for a few minutes. Lay the lace on a towel and place another on top; press to remove excess water. If the towel gets soaked, place the lace item in between two more towels and press. Continue until you have removed all excess water

Dry all delicate laces by air. Lay them flat on a dry towel or flat mesh drying rack. Gently arrange the lace into its proper shape. Keep an eye on the towel and replace it if it gets wet, as you don't want the lace or towel to mildew. If you are drying a lace doily and have non-rusting pins, you can pin the lace in its proper shape to air dry. Place the doily on a padded surface, like an ironing board, and arrange the lace into the shape that you want. Then gently insert a non-rusting pin through the lace and into the padded surface to hold the lace in place. You can also use balls made from wadded up waxed paper and insert under folds and curves of the doily to help hold the shape while drying. This will help prevent the edges of the lace from rolling
Phone: +86 852-64571239
Business Type:
Location: China
Main Products: shirts ,jeans ,hoodies
Total Employees:
Year Established:
Export Markets:Domestic Market,North America,South America,Asia,Europe,Africa,Oceania
Total Annual Revenue:
Products you may be interested