All kinds of translation quran reading pen QT506
8GB Memory Digital Quran Read Pen QT506
(with Word-by-Word Recitation and Printing)New

Product Specifications
1. 4GB capacity Flash Memory for additional storage of translations, recitations and MP3 files
2. Listen and learn Holy Quran word by word, ayat to ayat
3. Cheaper than other models such as QT201, QT503, QT801 etc.
4. Quran MP3 player, Record and REPEAT THREE TIMES
5. Combine two reciters or two translations or combine Arabic with another language
6. Easy connect to PC through USB: connect pen to the PC for charging or copy data files
Touch, Listen and Learn. It's that Simple!
New Quran Read Pen Contains 17 Complete Beautiful Quran
Recitations plus Quran Audio Translations in 21 Languages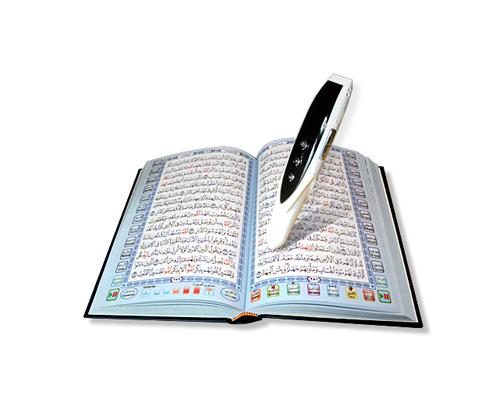 Very Intuitive, User Interactive and Easy to Use
Just Point at ANY Surah, Ayah/Verse or even a
Word in the Nicely Printed Koran and the Audio
Recording of that Part will Come out
automatically from the Pen
Best Quality at Best Price
With 1 year Manufacturer's Warranty
Quran Read Pen is the Best Gift for Muslim!
Great Tool for Quran Memorization and Understanding
- Easy Quran and Islam Teachings Learning
- Read and Listen to Quran Anywhere Any Time
- Helps in Quran Memorization with Three Times Repeat
- Quran Translations, Full Hadith and Hajj Islamic Library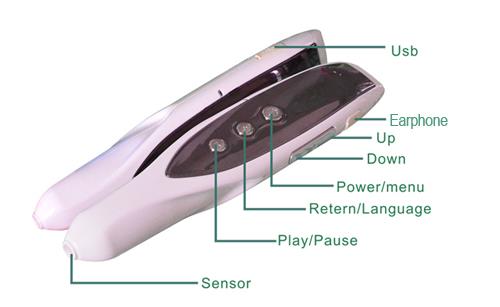 Features and Contents
Product Overview:
The most attractive part of Quran Read Pen device is that it starts the Recitation from anywhere
you want anytime; just point the device at any surah, page, ayah/verse or even a word of the nice
printed Holy Quran. There are 17 famous reciters and 21 translations for your choice as
follows(Please tell us your choice of reciters and translations when you place an order):
21 Translations:

English

Faris

French

Kurdish

Malay

Germany

Turkish

Pashto

Tafseer

Indonesian

Urdu

Russian

Malayalam

Uigur

Somali

Chinese

Uzbek

Spanish

Kazakh

Bengali

Swahili

17 Famous Reciters

Al-Sadais

Al-Menchaoui

Al-Ajami

Al-Shuraim

Al-Afasy

Al-Hussary

Abdul-Basit

Al-Mueaqly

Al-Ghamidi

M.Ayoub

Yacine

Al-Mohana

Al-Hudhaify

Al-Akhadar

Emad Hafez

Abdullah-Basfar

Al-Hussayni Al-Azazy with Children
Quran Listening and Learning Features:
1. Beautiful printed Holy Quran (Othmanic Style)
2. Point the Pen at any word, ayah, page or surah of your choice ( only using the printed Quran
included in the package) and start listening
3. Touch and Listen: one touch at the printed Quran is enough to play the audio (no need to keep
the pen in connection with the paper)
4. Ability to record your voice and replay it. A useful feature to compare student's recitation to
Sheikh's recitation for better learning
5. New: Use the pen to learn Arabic alphabet, how to pray, daily supplications, and selected
surahs from Holy Quran
Holy Quran Read Pen QT506

Model:

QT506

Material:

ABS

Power:

480mAh Rechargeable Li-ion battery

Working Time:

6-8hrs Continuous working

Memory:

4GB/8GB Memory

New Function:

Record and Repeat Three Times

Chip:

Sunplus

Codes QTY.:

More than 20,000,000 codes

Combine:

Combine two reciters/translations or

combine Arabic with another language

Word by word:

Listen&Learn Holy Quran word by word

Ayat to Ayat:

Listen Quran from any ayat to any ayat

Reciter:

17 famous Reciters

Translation:

21 Translations

Quran Size:

Medium(21x13cm)

Color:

White & Black

Accessories:

Earphone, Charger, USB Cable

Booklets:

Quran Teacher, Dua'a, 40Hadith,

Sahih Al-Bukhari, Talking Dictionary

Package:

Gift Box/Black Leather Bag

Delivery Time:

within 3 working day against payment

Shipping:

Ship Worldwide by Express/Air/Sea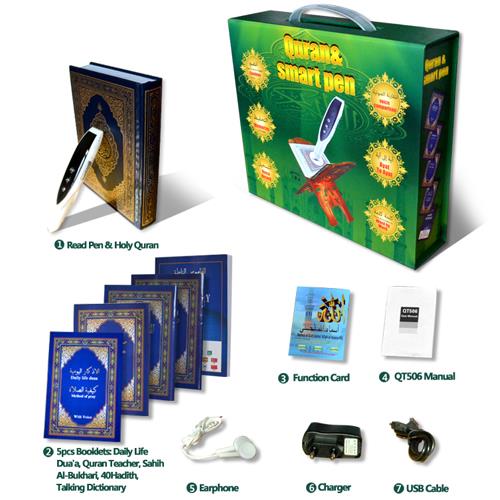 General Features:
1. Smart design
2. Clear and loud sound with built-in speakers and Headphone
3. Beautiful Pen with beautiful Gift Packing/leather bag
4. Includes Beautiful printed Holy Quran
5. Internal 480mAh Li-ion Rechargeable Battery, working 6-8 hours continuously
6. Travel friendly Universal AC Charger works in all voltage ranges (110-240volts). Flat and round pins for your choice.
7. New function: Repeat three times
8. Listen and learn Holy Quran word by word, ayat to ayat
9. Combine function: bilingual combination and two reciters combination
10. Point Record Icon in digital Holy Quran to record
11. Point Memorize Icon in digital Holy Quran to Repeat three times after reading one ayat
Spend More Time with Quran in Your Day
Spend More Time with Quran Read Pen
Spend More Time with Allah
Order your Quran Read Pen unit today from Equantu Tech and enjoy
this Special Promotional Offer. It is easy and fast!
We Ship WORLDWIDE!
Enjoy digital Islamic reading and save your money.
Please contact me directly if you have any questions and requiements.
Tel/Whatsapp: +86 17727443016(Cherry Gao)
Skype: sales101019
Wechat: E17727443016
QQ: 2850857971
Phone: +86 0755-89901602
Business Type: Manufacturer
Location: China
Main Products: quran speaker, quran read pen, kids read pen, LED book light, solar lamp
Total Employees:Less than 100 people
Year Established:2006
Export Markets:North America,Asia,Europe,Africa
Total Annual Revenue:
Products you may be interested